Articles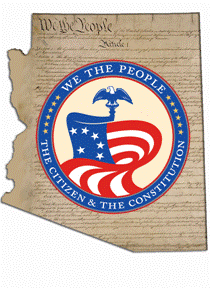 TWO SCHOOLS ADVANCE TO WE THE PEOPLE NATIONAL COMPETITION
Hits: 611
 
FOR IMMEDIATE RELEASE                                                           
 January 20, 2021                                                                         
 Contact:  Lara Slifko
 Tel:  (602) 340-7235
This email address is being protected from spambots. You need JavaScript enabled to view it.
Two East Valley Schools Win State Competition for Constitution Knowledge
Teams Advance to National Competition in Spring
[PHOENIX, AZ] –Friday, January 8th, 2021, 9 schools from across Arizona competed in the We the People Citizen and The Constitution academic competition.  The competition is a mock congressional hearing where students test their knowledge of the constitution and answer questions from a panel of judges.
Mountain View High School from Mesa, Arizona received the top scores for the second year in a row.  They will advance to the national competition. Approximately one thousand students from forty-eight classes will participate in the virtual National Finals on April 23 through 26, 2021 Hamilton High School from Chandler came in second place and will also be participating in nationals on a wild card position.
 All ten teams wowed judges with their vast knowledge of the constitution and applying into modern day situations. Teams that competed were:
Basis Phoenix
Corona Del Sol (Tempe)
Dobson High School (Mesa)
Gilbert Classical Academy (Gilbert)
Gilbert High School (Gilbert)
Hamilton High School (Chandler)
Mountain View High School (Mesa)
Prescott High School (Prescott)
Red Mountain High School (Mesa)
About Arizona's "We the People" Program
The Program encourages active learning in and out of the classroom about contemporary constitutional issues, the history of democratic philosophy and the history surrounding the creation of the US Constitution and Bill of Rights.  "We the People" also meets Arizona Academic Standards in Civics and Government and Language Arts. Each "We the People" team competing consists of a regularly rostered class of juniors or seniors who are studying civics and government or history. Ten out of the past eleven years, Arizona teams have placed within the top ten. In 2002, Dobson High School placed first in the "We the People" National Competition. The "We the People" Program is sponsored and administered by the Arizona Foundation for Legal Services & Education, the Arizona Supreme Court, and the Center for Civic Education.
About the Arizona Foundation for Legal Services & Education
The Arizona Foundation for Legal Services & Education provides technical and financial assistance to legal aid organizations, schools and community groups. The Foundation promotes "Access to Justice for All Arizonans" by supporting law-related education and free legal services and by promoting statewide collaborative efforts. The Foundation plays a leading role in preparing Arizona students for civic responsibility and reaches more than 100,000 children each year by training teachers, school resource officers and probation officers about our laws, justice system and the foundations of democracy. It is also home of LawForKids.org, America's first Web site dedicated to teaching students about the law.
Helpful Websites
·              Arizona Foundation for Legal Services & Education: www.azbf.org   
·              We The People-The Citizen and the Constitution: http://lawforkids.org/we-the-people
·              Center for Civic Education: www.civiced.org
·              Center for Civic Education We the People Nationals:  https://www.civiced.org/national-finals-2021